---
Nationalist violence in Londonderry
On Saturday 14th August 1999, the Apprentice Boys held their annual parade to commemorate the relief of Derry. The Nationalist Bogside Residents Group (BRG) decided to hold a protest parade on the same day from the Bogside to the Diamond. The Parades Commission noted that the BRG parade was deliberately intended to clash with the Apprentice Boys' traditional parade. The Commission ruled that the BRG march should not proceed "beyond the first wall of the Ulster Bank in Waterloo Place", and that the marchers should disperse no later that 12.00 noon.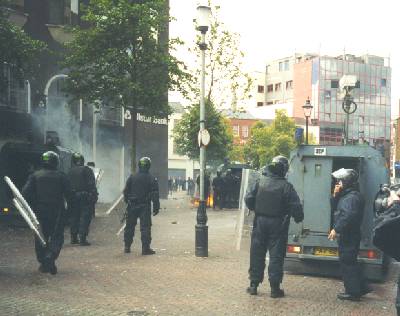 Petrol bomb attack on the police - 47k
The police are blocking the route of the protest parade at the Ulster Bank in Waterloo Place, as specified in the Parades Commission ruling. The flames of a petrol bomb can be seen beside the Land-Rover in the centre of the picture.
Although some marchers did disperse as required by the Parades Commission ruling, a number of Nationalists remained in Waterloo Place facing the line of police vehicles, which were blocking the road leading to the Guildhall. By 12:30, people in the crowd had already started to throw bottles and fireworks at the police, and attacks on the police lasted for several hours. By 2:50 pm, Nationalists were throwing petrol bombs, stones and bricks at the police.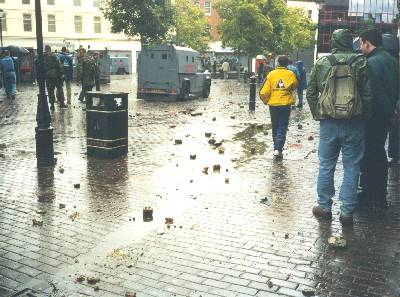 Stones and bricks in Waterloo Place - 89k
When this photograph was taken, the police had moved into Waterloo Place to prevent a stolen lorry from being set on fire at the junction with William Street. The bricks and stones which had been thrown at the police can be seen on the ground.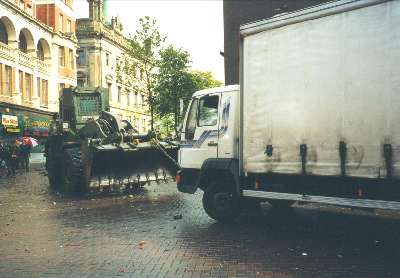 Stolen lorry being dragged away - 57k
This lorry was one of several vehicles hijacked by Nationalists on Saturday. After a failed attempt to tow the stolen lorry away using a police vehicle, an army bulldozer had to be brought in to remove the lorry.
In recent years, relationships between the two sides of the community in the city have been improving. It is therefore all the more regrettable that a small number of Nationalists deliberately used the traditional parade by the Apprentice Boys on Saturday as an excuse to attack the police and to destroy property in the city. The decision taken by the Bogside Residents Group to hold a protest rally was particularly regretable, given the serious risk of violence by Nationalists following the BRG rally.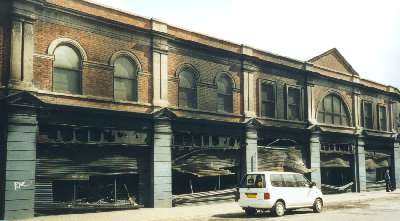 Shop destroyed in arson attack - 52k
According to news reports, the metal security shutters on this large discount store in William Street were rammed by Nationalists using a stolen car on Saturday night. The shop was then set on fire and the contents completely destroyed. Several other shops and banks were attacked, and at least one shop was looted.
---
Cruithni website | Home | FAQ | Links | Contact | Updated: 23 August 1999